Imagine finding out there is a hedgehog in your brain.
Headhog
is the story of a person who makes just such a discovery.
An opening extract from the play was performed by Metamorph at the Arcola Theatre on 8th July 2018. The actors were Gabriella Margulies, Paul Tonkin, Gemma Leader and Lucien Morgan, and it was directed by Flora Thomson.
The full play was shortlisted in 2018 by the Talos Science Fiction Theatre Festival, Ink or Swim, Kibo Productions, Radius Theatre, WriteOn and The Write Hour Podcast, and longlisted in 2019 by Free Spirit Theatre. It was given a rehearsed reading at Actors and Writers London on 24th September 2018. See here for details and rehearsal photos.

It will be staged by Primal Theatre at the Barons Court Theatre, London, from 11th-17th February 2019, starring Natasha Zierhofer (below) as Molly Reeves, Oliver Malam as Jason, Mike Kelson as Stan and Sheila McCabe as Cheryl, and directed by Simone Vause.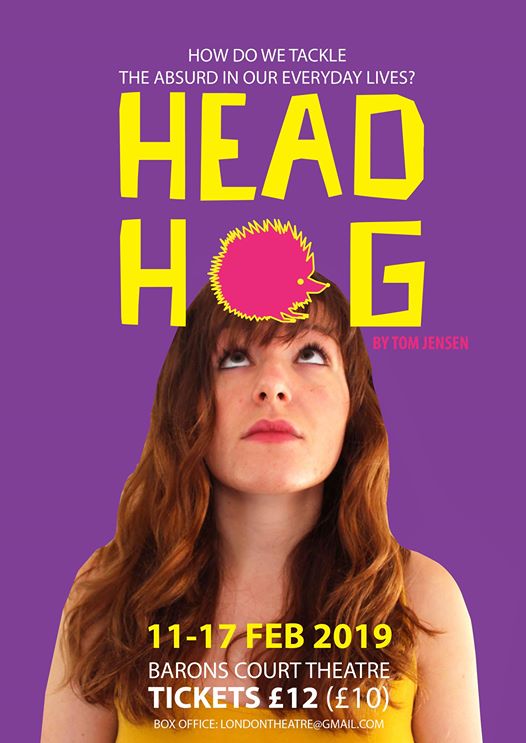 Reviews of Headhog at Barons Court Theatre, February 2019:

"If you can get over whether it really means anything then you can enjoy this as an hour of absurd drama that seems to fit in nicely with the quirky nature of the theatre in which it is performing" - Everything Theatre

"This was a subtle play, and although brief, made some interesting observations about irrational responses to irrational situations" - London Theatre

"Funny and even heartbreaking at times, the play's reflection on human nature is loyal and without being patronising" - Live London Post

"A hedgehog in the brain: this is the absurdist premise of Tom Jensen's intriguing play; a concept which has echoes of Kafka's dark short story Metamorphosis... Jensen's writing is smart and his idea raises lots of questions about how we deal with the trauma of the inexplicable... This has the makings of an intriguing and thought-provoking piece of modern absurdism." - London Pub Theatres