Lunch Hour had a rehearsed reading at Actors and Writers London in November 2013, directed by Kenneth Michaels. Gary James (below) played Luke Mullis, Helen Cashin (below) played Shirley Crouch, Charlie Dupré (above and below) played Dayton Crouch, and other roles were played by Terry Perkins, Francesca Wilde and Wendy McNeilly (above).

A private detective from 1930s Los Angeles, trails a suspected adulterer in present-day London. But if that's unusual, the target's lunch-hour activities prove even stranger.
Below is an excerpt.
SHIRLEY: I want to know what you saw.
MULLIS: For the last time, I can't tell you yet.
SHIRLEY: We had a deal.
MULLIS: Well, here's another deal: wait till tomorrow or I call off the whole investigation.
SHIRLEY: (Coughs) He's put you up to this, hasn't he?
MULLIS: (Gets up and stands in front of her) Are you accusing me of double-dealing?
SHIRLEY: Maybe.
MULLIS: Well, you're wrong. (Blows smoke in her face)
She coughs uncontrollably.
MULLIS: (Paces around angrily) You're an accomplished actress, Mrs Crouch. But you're in the wrong movie. And I'm not sure I wanna stick around till the dénouement.
SHIRLEY: Then you're fired!
MULLIS: That suits me just fine! (Gives her banknotes from wallet) Here, take back your advance. (Slumps back in chair) Now, if you'll excuse me, I need to catch up on some sleep.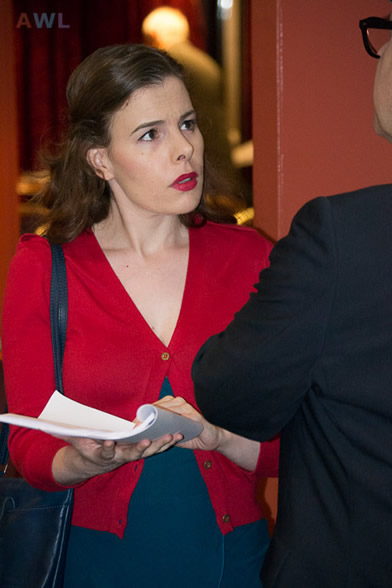 Photos courtesy of Paddy Gormley.